This book was first released Tuesday, May 16, 2006. Since then, I have been adding reports from persons who sent me Email from this Web Page. If you would like to write a short report and have it published here, just send me an Email, with permission to publish, from the button at the bottom of this page, and I may include it in this Web Page.
Thanks,
Richard B. Johnson
Comments from reader Stephanie during the month of May
Your book dedicated to Mark,
My mother, Carolyn, posted on the blog website for Mark today. I am just now finding out about how bad these "schools" were. My father passed away this month and I would also like to write a book about his life because the many bad things that have happened in his life were a product of his childhood. I have not yet read Mark's memoir but I plan to read it as soon as we get it. [Click for Mark's story] I work in child care now and plan to be a teacher but this book will be very important for my brother and I because we want people to still be aware of what has happened in the past. There are still so many affected by these horrible places, not just those who have experienced it but from my personal experience it has definitely had an impact on my family over the years. If you have any resources that may be helpful that would be great and if not, I am definitely interested in reading your book. I hope that you achieve your goals because the message still needs to get out there.
Thank you,
Stephanie
Comments from reader Carolyn
Dear Rick,
I commend your ability to overcome this abuse and these memories and to become so successful. From reports I have read and my own life with Steve...the odds were against it. I look forward to reading your book.
Carolyn

Next message from reader Carolyn
Hello,
My daughter Stephanie recently emailed you regarding ways to gather info for a book she wants to write with her brother. Her father, my husband, just passed away two weeks ago. He too spent time at Roslindale and Lyman and he told me of some horrific stories over the years.

He told me of a boy at a table in the mess hall who was talking during a meal. A "master" or guard came by and hit the back of his head and caused his face to smash into the table. The boy was taken away and never returned from what he remembered. This memory still haunted him in his last days of life. He would have been in the Massachusetts system from 1960 (six years old) to 1967 when his parents (his father too was an abuser) took him with them to move to California. Do you know if there is any way to retrieve records from these facilities? Though we have come to understand what molded Steve into the person he was, others need to understand that these halls of hell for children existed. I appreciate any help you can send our way. I look forward to reading your book and will inform others.

Take care,
Carolyn

Note: I told Carolyn that I would forward any emails about this to her... RBJ
Review by Greer on Amazon
This book is an amazing account of a child who survived the Massachusetts juvenile justice system in the fifties. Johnson writes about his early life, starting at about two years of age, he brings us through a foster-home-farm where young boys are forced to do farm-work to earn their keep, and some, including the author, are raped and abused. Johnson then recounts his encounter with the Massachusetts juvenile court system and the Youth Service Board in Roslindale. He recounts torture and rape at that institution where boys were warehoused without a trial until there was an opening at a juvenile penal institution. Later on, Johnson goes to the Lyman School for Boys, which was the nation's first reform school. The school was closed in the seventies.

Johnson tells about his stay at the Lyman School and goes into quite complete detail about the day-to-day activities at the school. Johnson thinks this institution was really quite good by comparison to other places he had been. Johnson then goes to another foster home, Charles Hayden Goodwill Inn, in Boston. While attending school in Roslindale, Johnson stumbles onto some missile secrets while preparing for the Science Fair. A federal judge took his Science Fair project away (no, he was not making a nuclear missile) when his high school teacher got him an audience with a military contractor. With only a couple weeks left, Johnson makes another project and wins well enough so that he gets to show his project in the state Science Fair and he gets another slap on the face.

Anyway, the book continues with Johnson encountering various challenges, which he faces and handles with true grit, an honest-to-goodness survivor. The book ends after Johnson enters the radio and television industry, gets a union job, and meets his first true love.

This is a book about success. It is well written and once you start it, you won't want to put it down. I like the fact that Johnson wastes little time in developing a story so you can read the book in a single sitting. Each chapter, except the last, begins with a picture that hints of the chapter content. I don't think this was an oversight. The last chapter doesn't have a picture because it hasn't ended yet. I think this book is excellent in all ways.
Review by C. T. Warner on Barnes&Noble
This book is about juvenile justice at its worst. The timeline is in the 50s and 60s. The author recounts his leaving home to work at a work-farm institution at about age 14 then his incarceration without a trial in a detention center where he was raped. It then leads to the Lyman School for Boys, one of the original reform schools. In spite of having three strikes against him, and against all odds, he is able to rise above it all. He even made an invention while in reform school and, later on, won a prize in the Boston Science Fair with his second project after the first was taken away by a federal judge. The author starts each chapter with a photograph. He displays several poems that are very good (they even rhyme). The book ends when the author turns 21 years of age, having accomplished in a few short years, what many others take a lifetime to accomplish.
Comments from reader Robert
Richard,
I read your book. I thought it was pretty good, maybe 4 stars, but I don't agree that Lyman School was a good place. I was there, in fact at Worcester Cottage, about the same time that you were. I remember Mr. McCabe as an extremely stern and abusive cottage master. His wife was even worse. I remember the pitcher for the Worcester Cottage softball team. He had a strange and confusing windup. Maybe it was you? Anyway, I would certainly never tell anybody that I had been to Lyman. I wouldn't be able to get a job. You must be independently wealthy to have the nerve to publish a book like you did.

I worked many years in Boston and surrounding towns. I never got used to the politics on the job so I moved to Colorado. It's really nice here, everybody minds their own business. Good luck with your book, I hope you don't get fired as a result of it! There are a lot of people who hate Lyman "graduates".

I remember Robert. He was a houseboy at Worcester Cottage. He didn't remember me, but he remembered my pitching... RBJ
Comments from reader John
Mr. Johnson,
Before you tell everybody how wonderful Lyman School was, you should ask yourself how many so-called runaways were actually killed by the masters and buried in the swamps on the backside of the hill. When I was there, there were two boys that the Elms cottage master Mr. Sherwood used to beat up, that suddenly disappeared, and were never heard of again. We were told that they were runaways. One of them was a friend of mine who had been beat up so badly that he was pissing blood. I'm pretty sure that he didn't run away. Of course, I can't prove anything so I learned to shut up.

Your book sucks. It makes it seem like Lyman School was a country club. You can print this if you dare.

This was slightly edited, corrected for grammar and spelling only... RBJ
Comments from reader Ray Dowell -- retired from Chicago radio
I met Dick when he was eighteen years old just completing the darker years of his life, which dominate his autobiography. Being a qualified electronics expert - at least I thought I was until I met him - I was impressed then confounded by this child's (comparatively) uncanny grasp of broadcast electronics. He was also unusually literate, in my critical opinion, which was equally surprising - I was then as now unimpressed by the overall achievement level of the American educational system. I had taught, briefly, at DeVry, an electronics technical school in Chicago, and had dealt with students who had failed the FCC "first ticket" exams after two years of schooling with that goal in mind. Even though I had such a ticket, I was still impressed by an eighteen-year-old who had managed to get one without a formal course of study.

He was obviously a young man with what nowadays in social science circles would be called "issues", but he also had obvious worth beyond the average. I sensed that his past might have included problems such as those he details in his book - after all, I was an orphan from the age of sixteen myself, and met a few unsympathetic people along the way to adulthood who wanted to build their ego at the expense of mine.

I give thanks to whatever instinct has led me, for the most part, to be helpful to others when I can. Those instincts have never been easier to obey or better rewarded than when I did what I could to ease Dick's survival and career forty years ago.

If you are interested in electronics, education, kids, governmental bureaucracy, recent American history, or just aggregate humanity - you should read this book. You will be better qualified to understand and relate to your fellow men, an eminently worthy goal.
Ray Dowell

Ray Dowell was a very important mentor in my book... RBJ
Book review by Raymond Dowell
This eminently readable memoir should be required reading for anyone in the law enforcement or social service fields, and certainly on the recommended reading list for educators and their students in those fields. Practitioners in broadcasting and more rarified electronics will find it particularly interesting, too, because they will have intimately been concerned with some of the ingenuity of its author, when he stopped leading the life of Oliver Twist and began emulating Marconi and Roentgen.

Nowadays Dick Johnson is in the happy position of following the counsel of the novelist who told us living well is the best revenge, but his book concerns itself principally with his early years when happenstance - primed, perhaps, with a little precocious genius - led him into encounters with some Massachusetts Dotheboys halls and some vile public servants. He is also careful to tell us that he ran into some decent and helpful souls along the way who will rejoice that, from surprisingly young adulthood, Dick found his bootstraps and lifted himself into full participation in the marvelous opportunity that is American life.

This reviewer can vouch for the truth of Johnson's story, and hopes a great many people will take advantage of the opportunity to learn from and be genuinely entertained by this unusual chronicle.
Comments by reader Rich Wood
Forget Brittany Spears. This is more interesting.

Celebrity autobiographies rarely reveal any surprises. I once discovered that my next-door neighbor was an (illegal) arms dealer who lived a fascinating life. Ordinary people who often aren't so ordinary are much more interesting. This book proves it.

I was raised in a fully functional family. To read about anyone who didn't have the same luxury always grabs my attention because it's so unfamiliar to me. I never got in trouble (boring life), so I'm always interested in how I should do it in the next life.

This is a fascinating story of a young boy going through the wringer of the Massachusetts juvenile "correctional" system and coming out the other end as an amazingly versatile adult. I won't tell you the ending, but just say that, if your kid is harder to handle than you'd like, have faith. You may have the makings of a Nobel prize winner on your hands.

Rich Wood was a teenage prodigy radio announcer in my book... RBJ
Comments by reader David
From Mr. Johnson's book, one can surely see that it wasn't too long ago that a parent's threat to send a boy to reform school for trivial misbehavior was in fact often carried out in the state of Massachusetts. My older brother was sent to reform school in the '60s because he was caught riding in a car that one of his friends had borrowed without permission. The result was that he went the same route as Mr. Johnson, but he was killed. The details were never disclosed but somewhere between a detention center and the Westboro Reform School, something happened that made it necessary for me, at the time an 8 year old, to attend my big brother's funeral.

I always wanted to know what really went on at those horrible places. Mr. Johnson's book sheds new light on a very dark subject. I recommend this book to anybody old enough to read. It should be required reading for any of the so-called social service workers. It should also be required reading for any cop on any police force anywhere.
Comments by reader BCPRS, a reviewer on Barnes&Noble web site
Childhood Sine Wave
This book describes the disastrous treatment of a young boy/man who happened to be born to a matriarch who was uncomfortable with having a son. Mr. Johnson is ostracized by for simply trying to grow up in a family with a mother who would not accept him as a family member. As fate had it he was sentenced to 'Youth in Prison' where he was abused, amused and educated under the state of Massachusetts youth laws of the 50's and 60's. The descriptive passages clearly paint a picture of a young man caught in a system he neither can control or get out of. However he does manage to make something of himself despite the odds against him. Hopefully the people who are currently involved in youth services will read this and learn from past mistakes.
Comments by reader Cynthia Cleveland, Ohio
Dear Dick,
Your book is an international case and wonderful. It will inspire many people of different nationalities. I truly admire your strong will, determination, courage and optimism for a better future. In spite of your unwanted childhood upbringing, you showed respect and incomparable love to your family which is very rare we can find in the present generation. Your attitude towards life as a whole, made me realize that there is no hindrance in aspiring whatever kind of dreams and aspirations a man have. You made a difference and change man's life by showing your inner self, compassion and selfless love to others.

I will call you a "Genius of the Millennium."

Dick, thank you very much. You are an inspiration. I look forward to see you. God bless you and your family.....

Your friend from Cleveland,
Cynthia
Comments by reader William Siy Tin, artist on Amazon
Read about a real survivor, not that phony stuff on TV. This book is about a boy who had such a childhood that any run-of-the-mill lawyer could get him off even if he nuked the universe. First his parents kicked him out of the house as soon as he became a teenager. Then he was sent to a work-farm where he worked as an indentured servant (read slave). Next, after he accidentally burns down a barn, the state of Massachusetts incarcerates him as an arsonist in the worst possible juvenile detention center where boys were being raped by the guards (masters) nightly. Surviving this, Johnson is sentenced to a reform school where, because of his horrible past, he thinks he really had a good time.

Johnson goes into great detail about the day-to-day activities at the reform school, the very first one in the United States. A true survivor, Johnson is paroled home after completing his sentence, only to return to the reformatory because his mother told his parole officer that he "stole" (now I'm not kidding here) some ice cream from her refrigerator.

You would think that a teenager's life couldn't get any worse than that, but it does! Eventually, after much trial and tribulation, Johnson moves to another institutional foster home in Boston where he starts to see the light at the end of the tunnel, but it was a long hard pull crawling through. He even had a science fair project taken away because the government thought it violated national security. Undaunted, Johnson completes another project in about two weeks.

Anyway, the book has a nice ending. It's well written and a pleasure to read. Johnson is an expert stylist and his chapters are short with each headed by a picture. There are several remarkable poems and, at several places Johnson reflects upon an important metaphorical gateway, writing prose which reads like poetry.

One of Johnson's mentors, a chaplain at the reform school, writes the afterword of this book. This is also well written and quite uplifting.
Article about America's Throw-Away Children
Saturday, September 9, 2006
Like reform schools of yesteryear, today's "boot camps" reflect a culture where "anything goes" in dealing with children labeled "incorrigible."

They make the headlines when something goes terribly wrong: A child dies at the hands of guards administering "tough love." A child collapses from dehydration during an outing of "character building." For the most part, these are children-predominantly boys-who have not been convicted of crimes serious enough to warrant imprisonment. Because no one likes the idea of sending children to prison, there is a level of "treatment" for children that flies in the face of what most people consider basic human rights. These are America's throwaway children, consigned by families or courts to facilities that purport to offer alternatives to "straighten out" children who seem to be in a downward spiral, from first-time offenders to incorrigible truants.

While this new breed of facilities for dealing with troubled children has been making news, the underlying philosophy is an old one. Richard B. Johnson, author of the new release Abominable Firebug: A Memoir is one of the few who has come forward to share his story in hopes to shed light on the crisis. Accused of arson as a child and imprisoned without trial at the notorious Roslindale juvenile detention center in Massachusetts, he subsequently spent years at the nation's first reform school, the Lyman School for Boys, in the 1950s. While the institution became infamous for hatching Albert DeSalvo, an adolescent inmate who "graduated" to become the Boston Strangler, Johnson tells unflinchingly of not only the many weaknesses of that institution, but also of the rare opportunities and occasional mentors that allowed him to become in later life an accomplished engineer, pilot and inventor.

Unfortunately, many children who have survived, and even thrived, in adulthood rarely publicly admit a troubled past; staff members who have found ways to make a difference are reluctant to risk being linked with institutions whose names are synonymous with abuse. Thus, valuable experience that could bring about meaningful change is usually hidden.

Throughout the 20th century, there were various vogues for dealing with "incorrigible" children, including forced labor camps and reform schools. Over time, horror stories surfaced that attracted the attention of reformers, creating a public outcry that shut them down. "What has never been resolved, however, are the underlying issues: a willingness to ignore the rights of the children in order to protect society from potential miscreants, and a culture of closed ranks combined with generally low pay for staff that results in an unfortunate percentage of brutal or simply untrained staff," says Johnson.

"Many people don't really care what happens to the nation's youth when they get in trouble with the law," Johnson says. "And many people who are in the 'juvenile corrections' industry deny that there remain any problems at all. Many of the problems of the '50s and '60s are just papered over. It's not much better now, because the juvenile court system does not use the same protocols or rules of evidence they would when trying adults. Children are simply second-class citizens, and if the child is nonwhite, he is even further removed from true citizenship. An extremely damaging environment is suffered by children when they are not considered to have any rights, and we are failing our children by not creating more of a public outcry."

Unlike crime, juvenile delinquency is not a high-profile issue in this country. "Basically it's an out-of-sight, out-of-mind situation for most of the public," says Johnson. "The general public needs to know something about these institutions. At the same time, we need to validate the many people who have dedicated their lives to helping displaced children, despite tremendous odds."
Comments by reader Charles Ashbacher on Amazon
This is a story of severe trials that took place in an earlier time and era, specifically the sixties. The author was classified as a "troubled" boy, rejected by his parents and placed in the juvenile system. At that time, it was not a pleasant experience; some of the facilities were run by sadistic pedophiles that terrorized the boys into being their sexual objects. Some of the abusers were men of the cloth, but given the recent revelations of the actions of many Catholic priests, that news is not surprising. What does surprise me is that the scandal has apparently not yet involved priests and ministers of other denominations. For the "men of god" who sexually abused the author were probably not Catholic.

Richard Johnson is an incredibly bright person, showing genius in both engineering and music. It was those qualities that were a major factor that allowed him to succeed in life despite the enormous odds. The other factor was the few people that he encountered that gave him a chance and showed him kindness. He speaks with great fondness of those people and rightly so. They went so far out of their way and against his reputation to let him do things. Those people are mentioned and should be commended.

The book is also a look back to a time in America that was quite different from the modern age. Johnson describes how the police would beat him whenever they thought they could get away with it. That attitude among the police was not isolated to the eastern Massachusetts area. My friends and relatives described being beaten at the hands of the local police for minor offences, but only when the police felt that there was no risk. Generally this meant that the one being beaten didn't have a respectable parent or other protector who would mount a fierce objection.

Young men were also thrown into a system that was really more a form of incarceration rather than assistance. They had little to no rights, judges could do what they wanted and any attempt at rehabilitation was a consequence of the initiative of individual people.

Fortunately, Johnson survived all of this, becoming successful and having the courage to write about it. He is to be commended for that, many people would have been content to simply be successful.
Comments by reader Susan Woolsey, McAllister News-Capital, McAllister, OK
'Abominable Firebug' is a story of making it in spite of obstacles

Are you really a firebug if the flames are the result of miscalculating the angle of a rocket's descent?
And if that rocket lands on a barn and burns it to the ground, do you really deserve to go to reform school until you're grown? Richard Johnson was barely in high school when, after giving in to a fascination with rockets, he set off a homemade one and listened in horror as animals screamed and flames roared. Because it wasn't his first fire, Johnson was automatically, under Massachusetts law in the 1960s, labeled incorrigible and sent away from his family. But actually, his family didn't much care that he was gone. His mother, he writes, never allowed him in the living room except once a week to clean it, wouldn't let him come in through the front door, and was always terrified he would do something to hurt his two sisters. Even so, he said, he loved her dearly and often wished he could live at home. But at the same time, he was grateful that reform schools existed because otherwise, "Where would I have gone?" Before he turned 18, Johnson had lived in two foster homes, a detention center, and a reform school. Sometimes the food was good, sometimes it was bad. Sometimes there were good adults around, and sometimes there were bad people who attacked him. He was beat a lot, and molested several times by staff and fellow inmates alike. And still he persevered, growing up to live what he terms "a successful life" as an engineer, a musician and a pilot.

There's a bit of technical jargon in this book, as Johnson talks about his fascination with ham radios, rockets, coiled plastic-covered antennae and such, but as he says, the book is written by "a high-school dropout, and is easy to read." The lengths he went to in order to educate himself are well worth reading about. How many people in reform school have an FCC second class radiotelephone license, an elevator operator's license, a journeyman's projectionist's license and a driver's license before the age of 18? Johnson took note of his life, which was hard and lonely, and made something of it, something that brings him pride. Read the book and revel in one boy's gift to himself of a worthwhile life filled with hope.

Susan Woolsey
Staff Writer
Comments by reader Jimmy January, 2007
Just finished reading your book, enjoyed it very much, particularly the Lyman School reference as I was there from late May to December 1959 (700 credits). I too have that nostalgic feeling towards my "alma mater." Aside from kneeling in the corner, noogies (Mr. Stearns), or a few "dollars" all in all it wasn't a bad place. I miss the obstacle course.
Jimmy
Comments by reader John from Florida February, 2007
Richard,

I read your book and I too have a story to tell about the Lyman School for Boys. Adopted by a foster mother, I became too much for her to handle so I was called a "Stubborn Child" and put into the custody of the Massachusetts Youth Service Board. At the time, the detention center was in Roxbury. It was not the new center in Roslindale shown in your book. From there I was sent to the Lyman School in Westborough. I have always been interested in automobiles so I liked my spare-time jobs of cleaning and shining Mr. Sherwood's car. Mr. Sherwood was the cottage master at Elms Cottage when I was at the school.

I ran away once and was sent to Oak Cottage for a few months. Oak Cottage was the discipline cottage and Mr. Jackman ran it. Mr. Jackman was a very aggressive and harsh cottage master although he was usually fair in his treatment of troublesome boys. I worked in the Print Shop making the official documents and stationery for the Commonwealth of Massachusetts. I remember it well.

After I had completed my 700 credits, I went to the Hayden Village summer camp in South Athol. I expected to go to the Hayden Goodwill Inn in Boston after camp, but it did not work out. Instead, after Lyman, I went to live at the State Police Barracks in Concord, Massachusetts. I was to stay there until I joined the service. I ran away a couple times, but I did not get into too much trouble. Eventually I joined the Army, but things did not work out too well because I went AWOL right after boot camp. I ran off to Florida to find some love and adventure.

I was eventually picked up and sent back to that Army camp where I was discharged. That was when I decided that I really needed to take some control of my life. Since I only had an 6th grade education, and the Army was not going to be the way for me to "see the world," I became a trucker and spent most of my adult life driving 18-wheelers all over the country and even beyond. As a trucker, there was always the excitement of the town over the next horizon. Eventually I settled down, found a girl and married. I outlasted my first wife and then married another who is many years younger than I am. I have two daughters and I have always been able to provide for my family with a decent house, adequate income, and good credit, this in spite of my limited formal education. This I credit in no small part to the disciplined life taught to me when I was at the Lyman School.

Now I am past retirement age, but I am still working. I still drive the big rigs, although I get to choose my trips more carefully. When I read your book, some things made me cry. However, they were tears of joy because I have many fond memories of that school mixed, of course, with some strange emotions that I am sure only Lyman School graduates would understand.

John
Comments by reader Peter from Dorchester, Massachusetts February, 2007
My encounter with the detention center in Roslindale was not as a prisoner. Instead, in the 70s I was looking for a secluded parking place to park with my girlfriend. I noticed this road that went up alongside the Forest Hills cemetery. Just before the road dead-ended, I drove past the building pictured in your book. It was a frightening looking building, but I didn't think much about it because I had more on my mind. I had a few drinks before I went parking with my girl so I fell asleep with her in my arms. In the middle of the night, I had to get out of the car to relieve myself. That's when I heard terrible screams coming from the detention center. I can remember those horrible screams to this day. Until I read your book, I didn't know what was going on inside there, I could just imagine and be glad that I hadn't gotten caught by the law in my childhood days.

Good luck with your book. By the way, I married the girl and we now have three grown children, two sons and one daughter. It became a lot easier to raise the boys when, after they misbehaved, I'd tell them about the screams from the detention center.

Peter

Comments by reader Jim Wood from INOVONICS April, 2007
Mr. Johnson,
I purchased Abominable Firebug after seeing your 'plug' on the bNet discussion group not long ago. I finished the book last night and really needed to tell you that it's one of the most fascinating and touching books I have read in a long time. I'm glad you included the Rev. Brown Afterword; which I think not only applies to delinquent boys, but illustrates the root of crime universally.

Your description of the Acoustic Ring Gyro was fascinating; I wish I could understand the concept. Shame on Sperry at any rate.

I don't know whether you will be attending the NAB show this year, but if you will be there I would be honored to have you drop by our booth (N8226) and to meet you personally.

Best regards and many thanks,

Jim Wood, Pres.
INOVONICS, INC.

Comments by reader Ted from Providence, Rhode Island April, 2007
Richard,

I read your book cover-to-cover three times. Everytime I read it I find something new and interesting.

I knew you had been there when you claimed, "Hell was cold." I never did get to write about my experiences, but they were somewhat like yours. The Roslindale Detention Center was something else. I only got slapped around a few times, but I watched others get very badly beaten. In the night I would hear the masters come and get the smaller boys. I pretty much knew what was happening, but there was nothing I could do about it except hope that they didn't come for me.

Like you, I did sort of enjoy Lyman School once I got out of Lyman Hall. I was in Elms Cottage about the time you were probably in Worcester. I think you are a year younger than I. I remember Mr. Fazio, the fruit you don't name in your book. I also worked on the janitor crew and had to clean up after him. After Lyman School I joined the Navy to "see the world!" I was in the Seabees. I now live in Providence with my second wife. I have two daughters by my first wife. Basically, everything worked out ok.

Good luck with your book,

Ted

Comments by reader Bob Potvin from North Brookfield May, 2007
This great book is written from "Dick" Johnson's heart! It takes a man of the world to recognize a man of the world. Better yet, when this man, Richard Johnson, was my boyhood friend growing up in North Brookfield. Johnson's historical narrative of his youth is compelling reading. Both Dick and my cousin worked at Brookfield Orchards in the summer of l957 putting pine risers on bushel apple boxes. Johnson was wrongly accused for a "prank" he wasn't responsible for... nor did he do. Several months later both Dick Johnson and I were "awakened" by the beeping of Sputnik. Johnson and I collaborated on sending up our own amateur rockets! Richard's love was making radios... mine was meteorology. I was totally aware of the "horrible" relationship he had with his parents. Everything Dick writes about his boyhood is both true and accurate. Like a true scientist and inventor, Dick Johnson "failed" at life growing up. Time and time again he tried and failed. Yet his infectious spirit reigned supreme. His resiliency to happenstance makes him a success in its own rite. His youthful "travels" around the Commonwealth gave this not-so-common man a wealth of insight and experience. Dick Johnson's sophistication is hard to hide. His yellow Hummer is blazing testimony he's not yellow! His patents and listing in Wikipedia as a Computer Pioneer sets him way, way, way, way ahead of his peers. And, to think "Johnson" and I were in Cub Scouts together at Mrs. Green's kitchen in the mid 50s. Amazing! North Brookfield should be both ashamed (of itself -- the way teachers responded to this student's plight) as well as proud of her "famous son!" I'm no book agent nor electronic engineer nor psychologist or doctor... but I do feel every father should read this amazing story and each mother should read it to boot. "Dick," people do care about you... and I'm one of them!

Bob Potvin was one of my boyhood friends before I went to Reform School... RBJ

Comments by reviewer Bob Potvin in his Worcester Telegram BLOG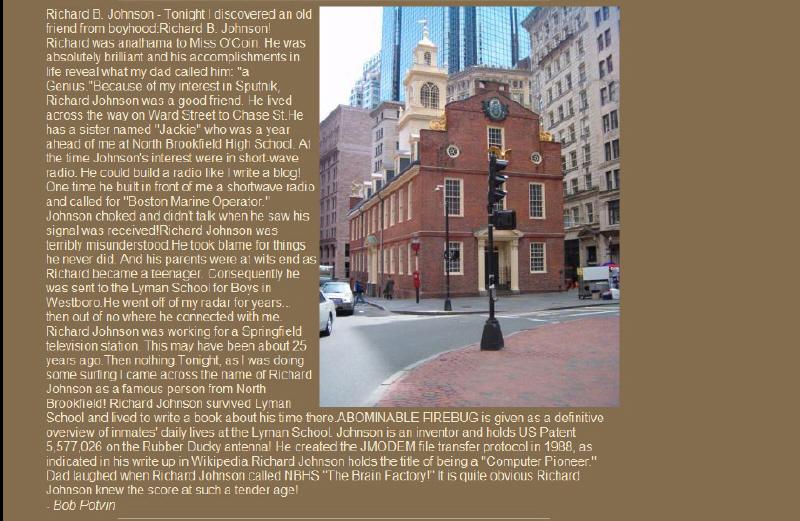 Comments by reader Joe from Massachusetts October, 2007
Hi Dick!

I just finished your book. It brought back so much to me. For many years after I was paroled, I had a "Police Complex." I think that drove me to taking the Police Exam. The police in the 50s and 60s treated kids like me in a way that built fear to the extremes.

I was told that I could not get a driver's license until I was 18, because of my time at the YSB and Lyman School, so that is when I applied.

So many of the master's names mentioned in your book brought back images to me like the Stearns, Jackman, and Kenny. I can still see Jackman in his riding pants and boots with the whip hitting against the side of his boot.

I remember so many of my pals and wonder how many are still with us. Is it possible to obtain a copy of my records while I was in the YSB and Lyman? I am sure you got hold of your records for your book. Maybe you can help me. I was at Lyman 2 or 3 months before the new mess hall was opened. We ate at the cottage. The food was brought in from the kitchen in another building.

Hope to hear from you again,
Joe

Joe is a retired police officer... RBJ

Comments from The Northborough Senior Men's Club
Dick,

Many thanks for your excellent presentation. Your topic was of considerable interest and for most of us it was a surprise to learn that there was a "good" side to Lyman School and that it served a real purpose in reorienting young boys by helping to mold them to be more in tune with what society expected and needed. The talk was very interesting and you got the most questions by far from attendees than any of our previous speakers. Your personality and delivery are well matched to your subject. I finished your book. You are a man of many talents and have been tested and tempered in more fires than most of us. I congratulate you on your perseverance and tenacity in the face of such adversity and becoming the success you are today. Thank you again for your time, it was and is most appreciated. We all wish you continued success.

Joe
Comments by reader Joseph Doulette from Michigan June, 2008

I've been reading your book. It brings back lots of memories. I think I was there when you were. My name is Joseph Doulette, "Stubborn Child," now an automobile dealer and married. I have four boys (three police officers, a commander a youth detective, a canine officer, and a fireman) nine grand children (four of them are in college and the rest are getting close).

I am a pilot myself, and have flown for about 35 years. I think I was in the same cottage with you. Did you have blond hair, sort of wavy and wear glasses? I was in Worcester Cottage. I think I was 15 at the time. Later was transferred to Hillside. I would like an Email if you could.

I returned to Lyman a few times. My last stop in the system was the Institute for Juvenile Guidance (IJG) in Bridgewater. The cottages in which I lived at the Lyman School were, Lyman Hall, Overlook, Worchester, Oak, and Hillside. I'm going to read some more of your book. I feel good that others got out of there and went on to good lives.

Thanks for writing that book,

Joseph Doulette
Livonia, Michigan.


Comments by reader Chuck Dube from Massachusetts May, 2009

I greatly enjoyed Abominable Firebug, which I finished a short while ago. There is great honesty and heart in your relating of a series of rather harrowing experiences at such critical stages in a young man's life. That being said, there is an optimism that is pervasive throughout. I couldn't put it down.

Chuck

A review by Chuck Dube from Amherst on Amazon


Revisiting but not anchored to the past

The way a child sees its universe resides in the delicate and ever changing balance of growing experience and a diminishing innocence which can never be reclaimed. Ideals such as fairness, honesty, and acceptance are fragile stalks, sometimes bent or broken by adults in their clumsy attempts to realize an image of what proper youth is, or indirectly, to claim vengeance on their own pasts.

In Richard Johnson's detailed and sometimes uncomfortably honest telling of his childhood and adolescence, we are given a glimpse not only into the events that constituted his sometimes imperiled life as a young man, but also a taste of the institutions that existed in a time when a child was not his or her own person, but potentially merely a "ward of the state." Such a child is not treasured, or even thought of as a fellow human being, but as a nuisance and something to be tolerated, controlled, or silenced.

It must have been difficult for Mr. Johnson to revisit many of the episodes collected within Abominable Firebug, but he does, surprisingly without malice towards those who had impact upon him mentally and physically. He treasures the friends he met along his path, protecting those that he could, and somehow managed to develop empathy for those who suffered along with him. He gives praise to those who in their own way bucked the system; instructors and mentors who felt that there was a better way to go about things and who became agents of change within their limited realms. And there is humor in some of the authorities he encounters, little men & women put in big positions unsuited to their character.

A theme of optimism intersects the often dark recollections contained within the narrative. Mr. Johnson's book is one which will appeal to those who behold the Canna Flower growing out of the rubble of devastation. This small volume is a very human story with heart and mind firmly connected.


Comments by reader Tom Woods from NBHS class of '65


Hello Mr Johnson---I have just finished reading your book and commend you on a job exceptionally well done! I too, grew up in North Brookfield during the 1950's and '60's and related well to your descriptions of the Yellow School, the Rubber Shop, and the asbestos shop across the street from the school.

I had your sister, Judy, in my class--whatever happened to her? What an unforgettable cast of NB characters--Ruby O'Coin, Martin D Leach, Shammy DeLude, Red Lee---you nailed them all!

Best regards and I am sorry for all the pain you had to endure growing up--but you showed 'em in the end!!!

Tom Woods (NBHS class of '65) (grew up on Ward Street) Sent from my Verizon Wireless BlackBerry
Comments by reader Pati from Florida


I've seen info online regarding your stay at Lyman School and your book about it and found it all very interesting. Below is a little info about Lyman School if you are interested.

I grew up in Westborough, Mass and our family had a bit of a history with Lyman School in an indirect way. We moved to Westborough in the early 1960's. My parents rented a farmhouse that still stands and I believe it is now a historical site. It is at the corner of Fisher and Otis. At that time it was one of only a few houses around there and as the property backed onto Otis where there were no houses at all, the back part of the property was very isolated.

The farmhouse itself was built in 1812 I believe and was formerly a schoolhouse so we use to get a lot of elderly folks stopping by and asking to see inside because they had gone to school there. But the visits I wanted to talk to you about was when they knocked on the back door in the middle of the night. Those were the Lyman School runaways.

To get to our house from Lyman School was relatively easy because all they had to do was cross Route 9 and then follow the railroad track until they got to our farm. The main barn behind the farmhouse had a huge pit underneath that was intended as the spot to shovel all the horse manure out of the barn. There were trap doors in the floor to do this. We seldom had horses at the farm anymore but the trapdoors were still there and there were ladders under the doors that led down to the pit. The pit was infested with rats.

During the daytime us kids used to look through holes in the planks to watch the rats. Nobody ever went in the pit because of the rats so that is where the Lyman school runaways would stay. Rumor had it that that spot was also a part of the under ground railroad years before. That was never verified though but we did find a number of old personal articles hidden amongst the beams of the barn that dated back to that era. I guess it became known at the school that they could stay at our farm, in the pit and not be found. There were always anywhere between 2 - 5 boys living under there. Eventually they would wander off, or go back home once the police were no longer looking for them.

Some I believe even decided to go back to Lyman after awhile. But a few days later more boys would always show up to replace them. I think that the boys staying there was something that happened long before we rented the place so it wasn't so much a choice we made but a situation we just inherited. Oddly there was electric wiring run down there because at night you could look in and see electric bulbs hanging from the ceiling and burning brightly and there were always a lot of blankets, clothes and broken down old furniture strewn around. The way that we could tell that there were new arrivals, on those nights; the light bulbs would be turned off.

As for corporal punishment at the school, though I can definitely verify that happened because those were the knocks on the back door late at night. When a boy arrived at the pit badly beaten they would take him to the back door of the farmhouse and my mother would minister to his wounds. Sometimes they would stay overnight in the back room if they were in really bad shape.

Now of course I was very young at the time and some of these memories are quite fuzzy to me but I clearly remember the knocks on the back door. I even remember times when the police were knocking on the front door looking for runaways. My mom would be hurrying the boy out the back door while my Dad headed to the front door to talk to the police. I don't think my parents wanted to intentionally break any laws. I think they just couldn't justify turning those poor boys in after seeing how badly they had been treated.

For the most part the boys left us alone and we left them alone in return. We seldom directly helped then unless they had been badly beaten but I think we helped them discretely. For instance when my mom come across unwanted, used clothing she would hang it on the clotheslines outside in the evening and by morning it would be gone. My parents also used to always have us store canned goods in the barn and even though we never seemed to use them, the stores of the canned food were always going down.

Well, just thought you or some of the others that have been discussing Lyman might find this interesting. Unfortunately, as I said I was very young at the time and our contact with the runaways was minimum so I can't provide any descriptions or names of any of the boys other than that they were all really skinny and dirty and looked very scared and sad.
External links
McAllister News-Capital story
Marshall County Tribune story
Freebook Clubs article
The Lyman School for Boys
Mark D. Devlin
Richard Brian Johnson biography
The Rubber Ducky Antenna
BLOG of Death archives
Bob Potvin's North Brookfield BLOG
Worcester Telegram newspaper report